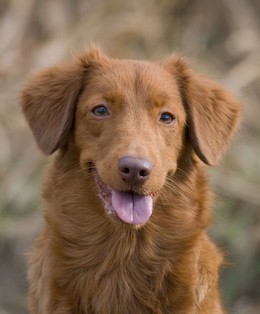 Kailey joined us in 2006 courtesy of Reg and Sue Dwyer of Fyrefly Kennels. From the moment she stepped off the plane, she proved that she is certainly not shy, running head first into every new experience, charming everyone along the way, in true Toller style. She has boundless energy, always ready for adventure, and will usually be found running around with a toy in her mouth trying to convince someone that it's time to play.
From an early age she showed her style, at just three months of age at the Redcliffe Agricultural Society show, she won Best Baby Puppy in Group in a very strong line-up of young puppies. Kailey then discovered agility and has decided that it's well and truly what she loves doing, having been dubbed "Rabbit" by some interstate judges, she lives up to her name, bouncing around the agility course with enthusiasm and style.
At the 2008 Agility Nationals held in Victoria, Kailey ran a blistering fast clear round in Novice Jumpers to put her in to the final. With only a couple of months of trialling experience at that time, this was a great achievement and showed the very bright future ahead for this cheeky little girl.